Preserve the Tile & Grout in Your Oakland County Commercial Property
---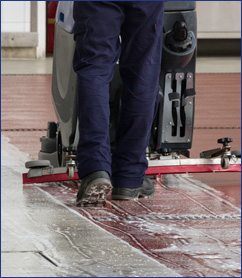 Hiring a professional commercial tile and grout cleaning service is the best way to go if you want your grout and tile to last longer and stay beautiful.
American Quality Cleaning of Waterford, Michigan has the proper knowledge, equipment and cleaning solutions that won't harm your tile and grout.
Without the necessary training in grout and tile cleaning techniques, maintaining grout and tiles is an uphill battle. Cleaners without knowledge that are not properly prepared often cannot come close to what a professional tile grout cleaner can achieve armed with the right training and tools.
---
Reasons to Hire a Professional Tile and Grout Cleaning Service
Great tile work is beautiful and appealing. When installed and maintained well, tiles add a layer of sophistication and style to any room and can last for decades.
However, to enjoy your tile for many years, tiles and grout require care. Depending on where the tiles are located in your premises, how often you care for them, and how much wear they receive, the ability to maintain and clean them regularly can be hectic for the unprepared owner.
Improper cleaning methods are not only ineffective, but they can also damage your time and grout. If you want long-lasting, beautiful tile, leave your tile and grout cleaning to the experts!
---
Professional Cleaners Can Restore Grout and Tile to Like-New Condition
Are you dealing with older tile that has seen its fair share of wear and tear? Older tile doesn't necessarily need to be replaced simply because it looks too played out in terms of cleaning and repair. Professional tile and grout cleaning services can clean older grout and tiles and restore them to a like-new state using products designed to de-stain and de-color old grout.
---
American Quality Cleaning, Inc. is committed to delivering quality service at the highest professional standards, tailored to your satisfaction for your Michigan home. We pay attention to the details and we don't cut corners! Our staff is ready to go the extra mile for you and your company. Call us today at (248) 961-4412 to request more information about our business or schedule a free on-site estimate.